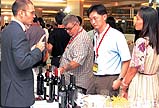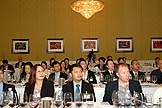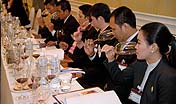 Why Bangkok?
---
We think there are three main reasons why wine producers interested in exploiting the new markets of the Far East should establish themselves in Thailand. In brief, these are:

1. Thai domestic demand for wine is now growing strongly from a small base, and is potentially very substantial. Thailand has a similar population to the UK, France or Italy, and economic development is rapid. (Thailand in Brief)
2. Thailand is by far the largest and most developed tourist destination in Asia, with nearly 15 million visitors a year. With more than half of these now arriving from other East Asian countries, it serves as an efficient showcase for producers ambitious to penetrate the larger markets of China, Japan and Korea.
3. Bangkok's central location and developed infrastructure make it the natural distribution hub for mainland Southeast Asia and Southwest China. Wines landed in bond at the port of Bangkok can be transported at low cost and free of tax to all Thailand's neighbours. This distribution hinterland encompasses a huge potential market of over 300 million people.
We discuss all three issues in greater detail below.
(The Domestic Market)  (The Tourist Market)  (The Re-export Market)
The Domestic Market
With a population of nearly 65 million, Thailand is the second biggest country in mainland Southeast Asia, and the most developed north of Singapore and Malaysia. With a GDP of $206bn (2006), and a
current growth rate of 4.6 per cent (2008), it has long been counted among the 'Tiger Economies' of the Far East. Together with rapid economic expansion has naturally come much greater exposure and adaptation to international influences, especially in the capital.
Historically, a significant segment of the Thai market for wine has consisted of the large expatriate population (the official count of 153,000 is of official work-permit holders only, and hugely understates the real number of foreign residents). Expats still provide a core base of reliable demand, but their importance is rapidly diminishing as the wine habit grows among native Thais.
Of course, wine is foreign to traditional Thai culture. Nevertheless, a large proportion of the Thai elite has been educated abroad (the current Prime Minister attended Eton and Oxford), and is thoroughly conversant with Western manners and habits. Wine drinking is now de rigeur in Thai high society, which continues to set the country's fashions, and as in many other Asian countries has come to be regarded as an important indicator of 'class', education and international sophistication. To Thais aspiring to these attributes (a rapidly growing class thanks to recent economic growth), wine is a status symbol easily, if somewhat expensively, acquired and displayed. Bangkok 'yuppies' are especially susceptible to international influence, and are very conscious that wine consumption is integral to the image they wish to project.
A related trend has been increasing adventurousness with regard to foreign cuisine. Italian food, from the humble pizza to haute cuisine, has proved particularly popular with Thais – indeed Bangkok alone can now boast well over 300 Italian restaurants at all levels. It is by no means alone, however,and visitors can easily see that the city's many steakhouses and French, German, American and 'International' restaurants are well patronized by locals as well as foreigners. While Western food by itself strikes many spice-loving Thai palates as bland, there is growing recognition that wine plays an indispensable role in Western dining.
In view of the above, it is not surprising that recent years have seen steady growth in wine consumption in Thailand – just short of 6.5% per year since the start of the millennium. Official figures indicate current consumption of 12-14m litres per annum. However, it is important that these numbers should be regarded as indicative of the trend, rather than authoritative in quantitative terms. Wine is still regarded officially as an imported luxury, and the tax regime placed on it is onerous. It follows that a substantial proportion of the wine actually consumed in Thailand escapes official recording by one means or another. One very visible sign of this, apparent to anyone entering the Kingdom overland,is the number and size of duty-free liquor emporia located just across the Thai borders. (The Re-export Market)
Although growth in wine consumption is steady, it can be expected to accelerate dramatically if and when the tax regime is eased (many middle-class Thais will certainly drink more and better wine if it becomes more easily affordable). It should be noted that the Thai government is under increasing pressure to liberalise the regime from many quarters – not least from major trading partners such as the USA, the EU and Australia.
In domestic political terms, one important factor is a growing concern with health and safety issues.
It is widely recognised that the country's lenient tax regime on hard liquor, combined with penal taxation on low-alcohol alternatives such as wine, is not only out of line with international (and, increasingly,regional) norms, but contributes to Thailand's high incidence of alcohol-related illnesses and accidents.Another is the steady growth of wine production in Thailand itself. From a standing start fifteen years ago, there are now ten wine growers active in Thailand, operating in micro-climates which allow production of an acceptable product. As the Thai industry expands, it will become easier to present wine as a 'local' as well as imported product, as is already the case with beer and whisky.
It is at least certain that Thais are becoming ever more aware of and knowledgeable about wine.
The country now supports its own Thai-language wine magazine, Wine Today, and recent years have seen dramatic growth in the number of wine tastings, wine dinners and other wine-related events staged in Bangkok and other major centres. A 2009 wine dinner in Bangkok featuring celebrity critic Robert Parker aroused widespread excitement and was heavily overbooked. Moreover, the 'Thailand Sommelier of the Year' event not only attracted 65 entrants – all Thai nationals – in 2009, but for two years running has attracted over 1,000 wine professionals and wine lovers to the associated reception and wine-tasting.
As the Thai wine market approaches critical mass, international interest has been quickening. Notable supporters of the 'Sommelier 2009' event included Pommery Champagne, Penfolds, the CIVB (Bordeaux Wine Council), Sopexa, Maison de la France and Wurttemburg Wine Region, and the event was part-funded by the European Union. The Thailand Sommelier Association, which now boasts 130 members, has also been accepted as an associate of the Association de la Sommellerie Internationale (ASI), with the result that leading Thai sommeliers are now eligible to participate in major competitions worldwide.
↑ (top)
The Tourist Market
Thailand is by far Asia's most important tourist destination, with some 14.5 million tourist arrivals recorded for both 2007 and 2008. Growth stagnated last year, due to the onset of the global recession and the temporary closure of Suvarnabhumi Airport, and the numbers in 2009 are likely to show a small decline thanks to the difficult financial situation worldwide. Nevertheless, past setbacks (such as the bird flu epidemic or the tsunami disaster of 2004) have proved very temporarychecks to a strong secular uptrend. Ten years ago, despite two decades of very strong growth, tourist arrivals in Thailand still numbered well under 8 million.
In 2007, the last year for which complete figures are available, the average stay in Thailand was 9 days,and the total tourist spend in the country amounted to US$16bn – a major source of foreign exchange.Over 50 per cent of arrivals are now from other East Asian countries, led by Japan and neighbouring Malaysia, although the fastest growing sectors of the Asian market are China (including Hong Kong) and Korea. For newly-affluent Asians, Thailand has strong aspirational attraction as a short-to-medium haul holiday destination, and it is very likely that growth in this sector will keep pace with the region's rapid economic expansion.
Thailand has also consolidated its appeal as a long-haul destination for Westerners. In 2007,27 per cent of tourist arrivals – or 3.8 million people - came from Europe, with another 1 million from North America and 700,000 from Australasia. Thailand is also a very popular recreational destination for Western expatriates based elsewhere in East Asia or in the Middle East, many of whom visit the Kingdom several times a year.
The traditional view of Thailand as a mecca for backpackers and sex tourists is now well outdated. Although both categories still flourish, Thailand has made a strong drive in recent years to reposition its tourist industry upmarket, pushing new attractions like golf courses and luxury spas to complement the traditional paradise beaches and jungle treks. The high-end tourist facilities now in place in Thailand speak for themselves:
 
 
 
 
 
 
 
 
 
 
 
 
Destination 
4/5-Star hotels
 
Of which 5-Star
 
Bangkok 
150
 
 
36
 
 
Phuket
125
 
 
 
34
 
 
Koh Samui 
 
 
90
 
 
 
 
30
 
 
Chiang Mai
 
 
47
 
 
 
 
14
 
 
Pattaya 
 
 
41
 
 
 
 
 
5
 
 
Hua Hin
 
 
32
 
 
 
 
13
 
 
Krabi  
 
 
23
 
 
 
 
 
7
 
 
Apart from Bangkok (where most visitors spend a few days at the beginning or end of their stay), the biggest concentrations of quality tourist facilities are in Phuket, Koh Samui, Pattaya and Krabi,with the historic Northern city of Chiang Mai and the upmarket resort town of Hua Hin also important. Other emerging hot-spots such as Koh Chang and Pai show every sign of progressing from backpacker-led to high-class tourist development according to a pattern which has now become well-established in Thailand.
Famously, holidays are a time for 'splurging' on luxuries normally foregone. This is especially true of Thailand, where unusually low accommodation charges allow many visitors to enjoy a 5-star lifestyle they can rarely indulge at home or in other major tourist destinations. One of the Kingdom's major attractions is its high-quality dining, offering not only fine Thai cuisine, but also Italian, French, Japanese,Chinese and many others – all prepared by world-class chefs of many nationalities.
It follows that most tourists eat very well in Thailand, and of course frequently consult the wine lists of hotels and resorts whose brand-names are famous around the globe. For many producers, especially those anxious to penetrate larger Asian markets, this is a key consideration requiring their presence in Thailand. Valuable as the Thai tourist market is in its own right, its primary importance is as a regional and international showcase for wines which may be purchased at home. For the Asian consumer, in particular, brand-association remains a crucial factor in terms of building confidence.
↑ (top)
The Re-export Market
A glance at the map confirms Thailand's strategic importance in mainland Southeast Asia – home to well over 300 million people. Located plumb in the centre of the region, Bangkok is only an hour's flying time from Yangon in Burma, Kuala Lumpur in Malaysia, Vientiane in Laos, Phnom Penh in Cambodia,Hanoi and Saigon in Vietnam. In addition, the important city of Jinghong (Chiang Roong in Thai) in Southwest China is only 380 kilometres by road from the northern tip of Thailand. Slightly further afield,Singapore, the other main centres of maritime Southeast Asia, Hong Kong and the Southern cities of mainland China all lie only 2-3 hours distant.
Strategic location aside, Bangkok is one of the three most important commercial and cultural centres in the wider region, alongside Singapore and Hong Kong. And with a highly developed commercial and transport infrastructure, it is the leading distribution hub for mainland Southeast Asia.
The big producers active in these regional markets already know that Bangkok is the natural wine distribution centre for the mainland. Local distributors can arrange for wines landed at the port of Bangkok to be stored in bond before low-cost transportation by road, free of Thai tax, to neighbouring countries It should be noted that Bangkok's natural distribution hinterland includes the major city of Kunming (population 5.7 million) in China, easily reached by modern highway from Bangkok
or barge from Thai ports on the Mekong.
While the local wine cultures are less developed in Thailand's neighbours, many can also boast significant foreign tourist and business traffic and have the hospitality infrastructure to service it. The duty-free wine market, located primarily along Thailand's borders, is also important. (The Domestic Market) Needless to say, the combined market represented by these countries is potentially enormous.
We shall be inviting many wine traders and F&B professionals from neighbouring countries to attend the Bangkok International Wine Fair. Producers interested in exploiting these markets (sometimes,but quite wrongly, perceived as 'difficult') will have ample opportunity to forge the necessary contacts.
↑ (top)
Programmes and Seminars

Show News

BIWF Wine Challenge